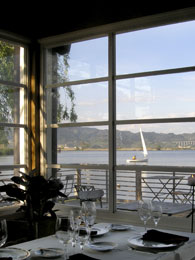 Situated on the edge of the lake of Massaciuccoli the "Chalet", one can admire from the spectacular terrace the typical landscape and the impressive profile of the Apuan Alps.
Built in the end of the 19th century, this structure was marvellously renovated keeping the original shape. The "maestro" found inspiration here and visited it so frequently, that it became an important part of the memories of Puccini.
In front of the villa of Puccini and nearby the theatre, where every year the "Festival di Puccini" is held, this structure is as always the meeting-point for musicians and artists. Inside one can admire several "fresco's" from the "macchiaioli".
For its large surface and for its particular position, the structure is excellent for cerimonies and conventions. The restaurant remains open every day of the week in the months of June until August and is closed on Tuesday and Wednesday during the remaining months. The structure can host about 120 persons.